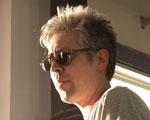 Preston Singletary
Preston Singletary grew up in Seattle. His grand parents were genuine Klingit. They had told many folk stories of the tribes when he was young. In the highschool he met with Dante Marioni. Soon after graduate the school, he was invite by Dante to help his glass studio and became a member of their blowing team. Since 1984, He participated Pilchuck school as a student and as a teacher. He had been working with glass in many countries such as Sweden, Itary and Finland. In the end of 1980's he started his new series which unite Klingit's traditional imagery with his works and breaks new ground of this materials.

class description: Iconography in Glass
This course will concentrate on glass art as a way to communiate iconography and convey cultural or personal icons. We will go over technical aspects of glass blowing and glass sculpting, as well as cold-working and sandblasting to create designs on the glass. We will make ef forts to develop personal expression with our work through discussions and working as a glass blowing team.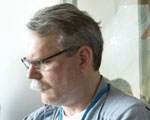 Roger Parramore
Roger Parramore had been working with glass since he was 10 years old under his father who was working as a glass blower. He studied phylosophy, english literatures and technique of scientific glass in the university. His recent works reflect his interests toward the romantisism and form of traditional italian glass. He mix them into his mordern delicacate sensitivity. His work was selected by Cornig museum's "New Glass Review". He teaches many workshops in various place such as Pilchuck glass school.
class description: Goblet Fundamentals
This class will focus on learning and developing the fundamental skills and techniques necessary for making goblets and other hollow forms. Through demonstrations, discussions, and hands on practice students will have the opportunity to learn the aesthetics and construction of many different traditional and contemporary goblets as well as how to apply these techniques to other works. From the simplest of sake cups to elaborate Italian style decoration, students will be encouraged to discover and explore their own vision and interpretation of this most classic of all glass genres-the goblet.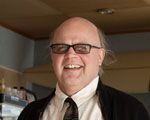 James Harmon
James Harmon is an internationally known artist of this glass medium for more than 30 years. He had graduated Rode Island School of Design and studied at Ilinoi state university. He had been teaching at various art schools such as Pilchuck Gass School. He had invited to many workshops and conferences. His works have been introduced in may books and magazines. In the summer of 2012, his exhibition was held at Hishult Konsthallen and in the October, at the Swedish Glass Art Museum of Vaxio.



To all the students



I have always wanted to visit Japan, and am excited that I will be there with all of you at the Niijima Glass Center! One of the premier glass facilities in the world ! I feel at home with other artists, and especially those working with glass. So I'm sure that it will be a fantastic experience for all of us. It will be fun! As the visiting artist, I will be teaching by example: working away on my pieces, and welcoming you to interact with me. My hope is that you will take advantage of my many years of glass art experiences, in as much as we can talk, and pass on information to each other during the time we are at Niijima. In the short time we will be there, I will not be able to tell you everything that I have learned, so I count on you to glean from me what you feel will be important to you. Do not be shy. Feel free to interact with me as much as you can, as that is the purpose of this conference, to teach, learn and to help each other to grow as artists. I am eager to show you the art pieces that I have been working on recently, and to do some experimentation while I am there. My new work combines glass and paper in a printing process. In fact, I call it "process art" because what become the final art pieces, reveal the way they were created. It also involves the viewer - in thinking about the process as they look at the work. The process combines drum printing, which was used in printing textiles in the past and hot glass to create one of a kind pieces of art. I will be on a discovery of "Washi" while there, and hope you will help me learn to about Japan and Japanese culture, which I have admired from afar for many years. It will be a special time for me; I hope it will also be that for you. Looking forward with excitement,