BLOWING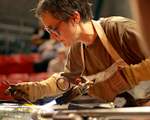 Clare Belfrage
class description by the artist:
--The Nature of Things--
This class will have a particular focus on forms and patterns from the natural world and how to re-interpret those elements and inspirations into glass. We will look at a broad range of pattern and line work and ways to integrate drawing and the three dimensional form. As a class we will search out and gather textures, patterns and interesting surfaces from the beautiful natural surrounds of Niijima. From this resource we will create drawings and small studies in glass to develop ideas and direction for individually driven projects. In addition to looking at nature for inspiration we will look to a number of sources including textiles, ceramics, painting and printmaking.
Students will be developing hot glass working processes. In the hot shop attention will build on the basics of : gathering, marvering, shaping with heat and tools, and then working the bubble out of the round to develop forms that are asymmetrical. I will be teaching my area of speciality; cane drawing, which is drawing with glass lines onto glass forms in the hot shop.
To do this we will pull 'stringers', thin threads of glass, to explore the subtle world of line quality that will help you make your mark as an artist. We will compare opaque and trans- parent, soft and hard colours, single and multiple lines as students learn the technique of cane drawing using a hot torch. Students will work on small to medium forms with an emphasis on detailed, intimate works.
Students will learn through demonstrations, one on one instruction, team work in the hot shop, including group projects and, by using the class group as a useful resource. Discus- sion and examining each others' studies and explorations will be an importantpart of learning in this class.
---Clare Belfrage
LAMPWORKING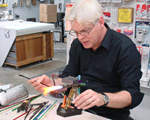 Shane Fero
class description by the artist:
-- Form from Flame; A Survey of Flameworking --
This class begins with the sculpting of solid rods in the flame encompassing the human form, animals, avian, aquatic, botanical and other denizens of the natural and dream worlds. On a parallel path, we will continue to work with tubes learning how to pull points, blow and flare out tops and feet for our blown vessels, which include vases, bottles, goblets and their fusion with solid parts such as handles and figurative elements. We will also cover some blown sculpture as well as blown and sculptural beads and jewelry. Finally, we will try to integrate thesetechniques into mixed-media installations and found objects to realize conceptual and personal statements. We will use the ambience of the beautiful island of Niijima as our inspiration.
On a practical level, we will be working with both borosilicate and soda-lime glasses and the course will be augmented by PowerPoint presentations illustrating different historical aspects of this technique.
---Shane Fero
---
ARTIST IN RESIDENCE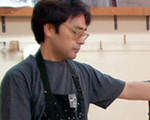 Akihiro Watabiki
-- Message--
I have created works in diverse media to this day, but I am very excited to be given a chance to challenge yet another new medium for me, which is glass. I started my career as an artist with printmaking (etching). Days that I spent making prints day in and day out with my classmates in printmaking studio in the college where all the press machines are lined up,is still a treasured memory in my heart. Now that I am working alone in my own studio, it has been a while to have an opportunity to work in collaboration with others, and I believe that this precious opportunity in Niijima International Glass Art Festival will definitely be an inspiring experience for my future works. Another important thing is, how glass will integrate with"Cleargraph", which is the method I have developed originally. Cleargraph is a procedure, where draw- ings are applied on the back of the acrylic sheet, and then several sheets are put together to create mysterious depth and clearness. With acrylic sheets, it is easy to manipulate the sheets by cutting with jig saw and laminating the pieces, but I assume that it will be totally different with glass. But with help of excellent gaffers, I am anticipating the glass pieces that I create in the studio in Niijima will be quite a different expression from what I have been creating with Cleargraph, displaying fresh creative appeal. I will be giving a workshop in Cleargraph during the festival, and I hope to have great time with you all, finding out the difference or the common ground between the two media.
---Akihiro Watabiki