BLOWING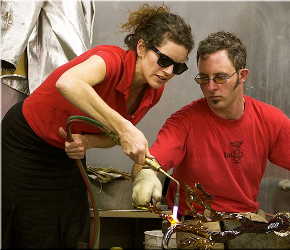 Treg Silkwood / Candace Silkwood
Treg Silkwood's career in glass spans more than twenty years. He received his BFA in 1996 from Alfred University, graduating Top Student of the School of Art & Design. Silkwood studied at the Academy of Applied Arts in Prague where he learned Czech mold making and cold working techniques and with Jack Wax at Illinois State University. He worked as Master Gaffer for the Henry Ford Museum and was one of the original crew of the Corning Museum of Glass' Hot Glass Roadshow. He received a Residency Fellowship from the Corning Museum of Glass and was honored to have his first solo show at Steuben's flagship store in New York City. Silkwood is recognized a premier California Marine Artist and as one of the foremost artists working in glass. He has been a regular instructor at The Studio of the Corning Museum of Glass and has been a Gaffer and Instructor at Pilchuck Glass School. He has demonstrated and taught at numerous national and international schools and institutions. Silkwood is currently working as an independent artist and Artistic Director/Senior Instructor at the Bay Area Glass Institute in San Jose, California.

Artistically, Candace Silkwood has explored a wide variety of mediums and materials. Her paintings, sculptural work, elaborate masks and installation art have been widely exhibited and well received around the globe. Candace's love of color naturally drew her to glass. Her fascination with glass found an outlet fifteen years ago when she began an apprenticeship with a local glass artist in the Santa Cruz Mountains. Working glass production introduced her to the idea of making art as a team. In 2002, Candace met Treg Silkwood. The two immediately fell in love and soon after combined their talents to form Silkwood Glass, a custom, hand-crafted glass company. Treg and Candace bring complimentary talents to their collaborative partnership, Candace's painterly sense of color and good eye for design are coupled by Treg's glassblowing expertise and mastery of form.
class description:Sculpting From Nature - Sea Forms
This course will provide a basic foundation for hot glass sculpting. Traditional and non-traditional glass blowing and solid sculpting techniques will be explored in the process of translating natural sea forms into glass. This class will focus on color application, surface treatment as well as hot and cold assembly. Students should bring sketchbooks and a collection of found objects for study and inspiration.
---Treg Silkwood / Candace Silkwood
FlameWorking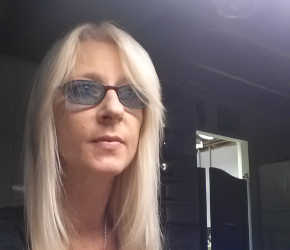 Chelle Jovan
American artist Chelle Jovan was born in 1967 in St Louis. Missouri is still her home state. She started her journey behind the torch in 2010 teaching herself glass techniques then moving onto sculptural work. She is best known for her custom pet portraiture glass work. Prior to working behind a glass torch she has created in stained glass, glass fusing, mosaics and a few other mediums. "My inspiration comes from the love of animals." With a background in earthenware and polymer clay, she applies those same techniques to molten glass to create a miniature likeness of a person's pet. You can find some of her published work in Glass Line magazine
class description: Animal Sculpture Techniques
Students taking this course will be introduced into building the basic foundations of creating realistic animals in soft glass. From this foundation, students will learn how to add details to bring that sculptural piece to life. This course will cover creating a bust style yellow Labrador pendant. Basic understanding of flameworking required, this is an intermediate skill level class.
--- Chelle Jovan
WEBSITE:
http://www.hotglass.com
Artist in Residence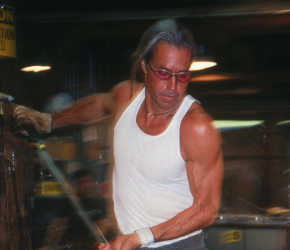 William Morris
For more than twenty years, William Morris has captivated and intrigued the art community with hauntingly evocative and beautiful glass sculptures. He has captured the imagination time and again by creating objects that appear to be ancient stone or wood carvings, not the modern glass sculptures they actually are. His art speaks of human origins, myth, ancestry, and ancient civilizations. It symbolizes a harmony between humanity and nature and provides a ghost-like bond to the world around us – a world that is often forgotten, ignored, and abused. Morris gathers much of his inspiration from ancient cultures from around the world – Egyptian, Asian, Native American – all peoples who respected and admired the land they inhabited. Because of this, Morris's artwork has become something all its own: culturally distinct and yet familiar to all cultures. His pieces embody a spiritual quality that sharply contrasts old beliefs with those of the modern world. These objects speak to our senses and continuously beg us to explore them further.
Artist's message to Niijima students
Dear Niijima students, It is a great honor and privilege to return to Niijima after many years of reminiscing its unique natural beauty. Visiting Niijima once before as a glass instructor, I am returning to the island as a stone carver. As an artist in residence, I plan to explore the Kogaseki stone as my medium of sculpture. While investigating its inherent qualities, I'll be interested how this pumice stone differs from the lava rock I carve at home in Hawaii. I hope to be able to explore the Island, and draw inspiration from its many natural treasures. While making work at the festival, I hope to be able to extract the Koga stone from its place if possible, transport it to the school, and carve ceremonial objects and architectural components on site. Aside from carving, I will also be hiking, exploring, fishing, and learning about Niijima's special native and endemic ecology. During this residency I encourage students to interact with me, ask questions, and converse with me. I hope to get to know each of you during our short visit, please feel free to approach me while working, or anytime. I am bringing my girlfriend Usha, and my assistant Kelly. Please feel comfortable interacting with them as well. We are excited to be a part of Niijima Glass Center's 30th Festival. I just finished making a short film which I hope we will be able to show at the festival and possibly have translated. It is 15 minutes long, and you can also find it at www.thelastopeluman.com. This film commemorates a master fisherman of Hawai'i, and is about preserving tradition, and the discipline of learning, which we can all draw parallels from as artists working in glass. Thank you, and I look forward to meeting you,
William Morris
WEBSITE:
#
---